Well-known member
Steel Soldiers Supporter
Civil Defence Vehicles
We know how you boys like your ladies! This is one of the few "vehicle" pics we've found so far and it just happens to come with a group of girls that would probably be real handy at those Steel Soldiers Rallies.
Nothing but respect for the girls of this rural community who trained as nurses en-mass, to provide services to target cities.
Finding vehicle pics has been tough but we're on to a lead and hope to add a Pontiac to the list of Civil Defence Vehicles.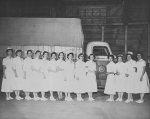 Now the fun part starts, hunting for a build truck.
Wasn't sure how this pic would work but we're looking for information on Pumper No. 1. We have not found a similar truck on the net so if someone comes across some pics or info, we'd appreciate seeing it. Could be a British Rig?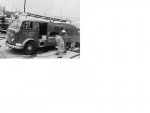 Found some great links to the American Civil Defense story loaded with vehicle pics so I'll add them for entertainment.
Time Stamp significant dates,
http://legeros.com/essays/cd/
The link to vehicles with CCKW, Deuces, 5-tons a Panel and a few other tasty trucks
http://legeros.com/essays/cd/apparatus.shtml
A Franklin County Civil Defense DUKW and a Panel. Also linked within this link is an interesting 36 page read.
http://www.dispatch.com/content/blogs/a-look-back/2011/11/civil-defense-vehicles.html