Active member
Steel Soldiers Supporter
While working on trucks, it is nice to have an air compressor for the air tools that we need. In fact, I could have used an air compressor when I had my flat tire out on I-15!
I knew that the 7 Tons had an air compressor and that there was an outlet on the drivers side under the battery. My truck had a rubber cover over the outlet.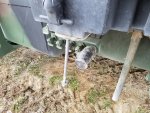 When I had the flat tire, I did have air tools with me but I could not get my hose to mate with the connector on the truck.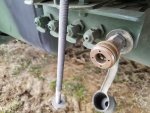 So now that it is back home I wanted to figure out what was the problem.
Now I know that truck stops sell a hose that you can connect to the glad hands. And it is nice that our trucks have glad hands at the front and the rear of the truck but if the truck has a connect for the air already, I want to use it.
So I tried a bunch of different air connectors on the truck connector but nothing would work. I used both the Auto (T) and the Industrial (I/M) type. So I looked at the connector on the truck and saw that it was threaded on. I pulled it off and found a brass 3/8 nipple. I wanted to use standard connectors so I went to Harbor Freight and purchased set of connectors.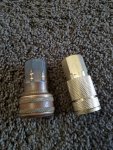 The one on the left is from the truck and the right one is the new one from Harbor Freight.
But the connectors would not thread on. The connectors were 1/4 and the truck was 3/8. So I did what I always do when I need parts for my 7 Ton - I went to Home Depot!
WHAT! You say, Home Depot? Hey, they had the parts I needed. Here is what I used: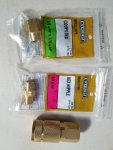 So with these 3 parts I was able to get a standard air compressor connector on my truck so now I can use my air tools.
Jon