Well-known member
Steel Soldiers Supporter
I made a nice inexpensive filter setup for my Deuce. Have since sold that actual setup.
I also had multiple 55 gallon drums full of new and used oil,
(none ever from diesel crankcases)
and had zero problems. I put one cansiter on the pump output to assure clean fuel.
The setups are simple, moved a lot of fuel and very easy to maintain.
I am now going to put my filters and my last three filter heads in the classified section.
They will be listed for not much money.
They work. I had the cleanest fuel in the Deuce fuel tank ever, continuously filtered down to one micron if I thought that necessary. On the road I just used 3 micron filter, easily changed out, but never had to. Also I didn't have to change the truck mounted original filters again, so it was money and time saving.
I was going to patent it but there is almost no market and that is expensive so I give it away.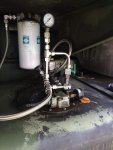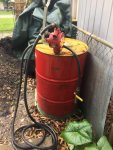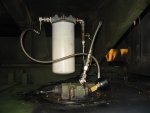 Last edited: