Active member
Steel Soldiers Supporter
I recently bought an M1009 that will need a great deal of work. I have been plugging away at it, a little each day. I noticed a few things that I wasn't quite sure about, so I took some pictures. If any of you can provide some insight, I would greatly appreciate it.
This clip is attached to a glow plug. Unfortunately, most of the wires have been cut. I would like to replace these wires and clips. Does anyone know where I can find these clips.
..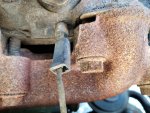 The picture below shows a tiny wire that exists between the upper (Positive) and lower (Negative) terminal blocks located on the fire wall. What is this wire for?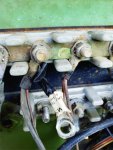 Injector Return?? In the picture below, I put a couple of red arrows pointing to what appears to be small rubber hoses between the injectors. I am guessing that these hoses are part of the fuel return system. Is this correct??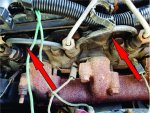 Final picture for the night! The picture below shows a small wire clip that holds the red wire from the battery to a block on the mounted on the firewall. Most of my clips are missing. Does anyone know where I can find these clips? Are that alternative clips available? Any info would be a great help....