Administrator
Staff member
Administrator
Steel Soldiers Supporter
I have to first give Papabear a huge shout out. He and baby bear spent their Saturday helping me recover this M114.
It's honestly just a hull with with road wheels and tracks. The gear box is there as well as the axle shafts. I also have all the missing road wheels. One track is still useable. The other is still together, but needs to be replaced. I will need to build a power pack setup for it and drop it in. I know I'll need a rear hatch. Front hatch. Engine bay covers. Hydraulic pump. Lots of linkages. Wiring. Head and tail lights. And lots of other nick nacks.
My plan for now is to get it cleaned out inside. Then start working on bodywork on the outside. What hatches I can't source, I'll have a friend cut on a waterjet. Lots of work ahead. And even when that's done, I've got to refurb my M871 and setup a dovetail/ramp setup for it...
Anyhow I started the day at dark 30. I needed some fuel...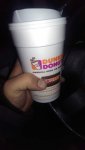 After getting to Columbus and grabbing breakfast, we started to load up. Notice who was ready first?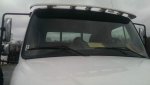 Then we fueled up the rollback.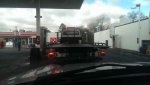 After a short drive we were there. I got to "ride" it up to the top of the hill. We pulled it with Troy's deuce. I've gotta say, I was grinning ear to ear.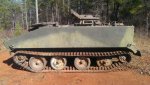 And a plug for CTR!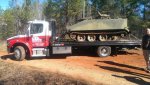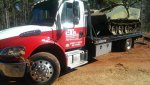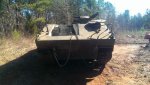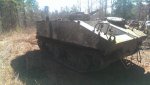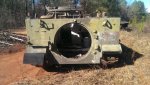 And yes, I'm not sure who's having more fun. Me or the kids!