Well normally I don't write about items I buy from the classifieds here, but when a really great item at a great price comes along I make an exception.
Here is another exception. This is a Milton air chuck and hose and gladhand all for $40.00 ! That's including shipping !
I just received it today and I already ordered another one.
First off it came in a solid post office box packed in the original military wrapping. Second it is the top of the line Milton air chuck, not their flimsy stamped steel unit which by the way sells with tax for over $60.00 ! I know as I just bought one three weeks ago.
Third it comes with 30ft of quality "Goodyear" air hose. Not some cheap stuff from who knows where !
Fourth it has a nice new GladHand already attached !
Here's some pictures showing what I mean.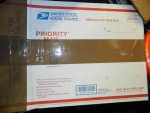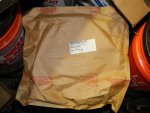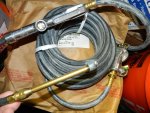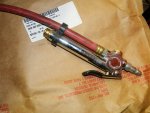 This last picture shows the Milton air chuck I just bought.
So here's a breakdown of what your getting here.
A new Milton top of the line air chuck valued at over $60.00.
30 ft of Goodyear air hose valued at $1.00 per ft so $30.00.
A new gladhand valued at $20.00 to $30.00 depending where you buy it.
All totaled, a $110.00 to $120.00 value for only $40.00.
Just so you all know I'm not getting any kind of "kickbacks" here. I just feel this is a great value so I wanted to share it with you all.
You can find this great deal here at "Steel Soldiers" own classifieds at
https://www.steelsoldiers.com/showt...-gauge-gladhand-chuck-tire-inflators-11677140