Starting this thread as kinda a log of my experience with my first M998... I'm thinking it would be fun to log the chain of events and lessons learned in the process, and would love to bounce ideas around on how to go about addressing things as they come up.
So, got this thing at auction October last year. Bit of an impulse decision, and I certainly did not do as much research as I should have. Oh well, might as well have fun learning the hard way
.
The data plate showed 2008, altho the truck is much older, appears to have had a reset in '08. National guard truck.
Here's a photo from the auction site: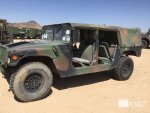 The EUC took forever to process. Over 4 months. But it finally happened, and here she is: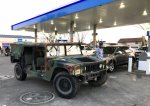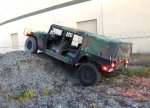 BTW this thing is a lot of fun!! So far rather happy with the entertainment value!
I'm still waiting for the SF-97 and still thinking on strategies for titling. I won't get into that here for obvious reasons, but if anyone has ideas don't hesitate to PM me
Thanks,
Alex.
Last edited: