Staff Member
Super Moderator
Moderator
Steel Soldiers Supporter
Hah., Wes... somehow those pictures look familiar to me... lol
(Although the corresponding drawing should be this one...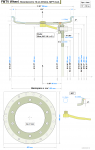 But the point is YES, FMTV wheels can be converted to any desired center lug-pattern, using a flat steel plate bolted to either the wheel's outer- or inner side, via the stock wheel studs (20) - which are long enough for that purpose.
Of course, the stock center "hump" section needs to be removed, first.
Here is a
good thread
about just this...