Long time browser here, picked up an M1008 last month so I can finally join in.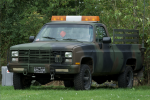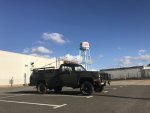 No stranger to military vehicles or American vehicles, my other project car is a '90 S10 Blazer, my dad had Jeeps while I was growing up, and the guy who lived next door to my grandfather had a yard full of rotting squarebody Blazers and USAF surplus trucks, including a couple of CUCVs. I looked at one of his 1009s back in 2015 and he wanted £8k for what was pretty much a rolling chassis, so when this one came up for less than that I jumped on it.
When the previous owner picked it up it was just a plain green pickup truck, so all the additions are non-original to the truck, but it looks the part and it's solid so that's good enough for me. Few minor things to fix (broken exhaust, glow plug temp sensor, no speedo/fuel gauge) but it runs and drives just great. Already been poring over the TMs and got some of the parts I need to fix it, looking forward to seeing what I can do with it.
As for plans going forward, mainly just looking to preserve what's there. I like the lightbar but we're wiring in a plug so it can be removed, and the troop seats could do with a refresh and some pins making up for them. The markings aren't original, so I'm considering painting them out and maybe putting Air Force markings back on it, maybe get some show plates with the Air Force serial number on them which is still inside the door.