My department just brought back from MS a MaxxPro to be used by our SWAT team. It will replace an aging Peacekeeper that has more than it's fair share of mechanical issues. The guys that went down to inspect it and drive it back called our insurance carrier before starting back with it to establish a coverage rider in case of a mishap on the way home. As part of my job I take care of logistics and fleet procurement for the department and got a email for the from our insurance carrier inquiring if we wanted full coverage or just liability to cover the other driver or property. Well I was not quite sure how the Sheriff would want to proceed with it so I asked him and he said full coverage. The value of the thing is just north of $550K so that kind of coverage would be pretty salty. We discussed it more and settled on liability with the following reasoning.
1) The thing is virtually indestructible
2) Even though it is titled to us we can not sell when we are done with it due an agreement with government. They said if we don't want it anymore just to call and they would come and pick it up. They did not specify what kind of condition it had to be in when it is returned.
So liability it was.
We also figured that this may reduce our time with barricaded subjects due to the fact that they will probably want to come out and take look at it. We thought it might go something like this: "Hey y'all that real nice truck ya got. Can I take it muddin?"
Enjoy!!!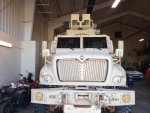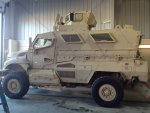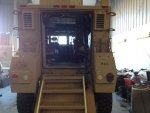 Last edited by a moderator: