It was this way when purchased. One PO was a FD who passed along the maintenance records. One WO shows replacement of the under dash starter relay. Whoever did that did a good wiring job. Relay later failed shut which I verified by opening up. Another WO shows replacement of starter with a gear reduction starter.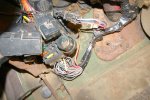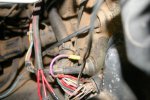 TM and other wiring diagrams say the ignition switch wire is yellow. The Orange wire that was fed to the engine side purple wire does go hot when ignition key turned. There is also a cut yellow wire in the pic. Doesn't react to key turn.
Was going to do the doghead upgrade when I found the switched wire to the starter relay doesn't react to key turn.
Has anyone seen this bypass done and is there a recommended way to reverse to factory?
Is there a way to tell what voltage starter was installed? Can't see any part numbers and the WO doesn't specify. Unless there is a hidden heavy wire going to the starter, it is being fed 24V. Whoever put the starter in also didn't complete the support bracket installation despite a specific WO line to that effect.
The Orange wire that fed the purple wire is 12V. Will 12V activate a 24V solenoid? If the starter is 12V, how long will it last if fed 24V as it is now?
Worried that feeding 24V to a 12V solenoid might let the magic smoke out.
It does start fine with the orange to purple wiring setup.