1972 Search & Rescue Pinz
I have been a long time volunteer with Search and Rescue in King County. I belong to King County 4x4 Search & Rescue, King County Explorer Search & Rescue, and am a member of the Washington State Regional Special Vehicles Unit (Snowmobiles, ATVs, Dual Sports, etc.).
Last year I sold the Jeep I had built for SAR use and started looking for a new rig to build. My goal was two-fold, first it had to be able to serve as a vehicle I could use on missions and second I wanted something that would draw attention at the events and parades we participate in frequently (typically providing First Aid and missing child services). Few people realize that SAR is all volunteer based (in Washington state and many others). So drawing people in so you can remind them of key safety protocols when in the wilderness as well as informing them that we are 100% volunteer and non-profit funded by donations is really important, otherwise we cease to exist...
After looking at a lot of options I decided on a Pinzgauer. They are small and capable (good for the tight trails in Washington), have a large capacity for people and gear, and definitely have that attraction factor I was looking for. I shopped for almost a year before I settled on a 1972 710M in San Diego. I fly down to pick it up at the end of the month and will be shipping it home as I will be on a business trip and unable to drive it back due to time constraints.
THE PLAN:
Go through it end to end and replace all fluids and address any maintenance issues found.
Swap out the street tires with something more appropriate for SAR (I'm a big fan of Goodyear Wrangler Duratracs, but looking at a few other all season options - this will be a purpose built rig so tires only need to be good enough on road to be safe and to get me to/from the mission)
Get a little time behind the wheel to validate my assumptions and make any changes needed to the build plan.
Design a custom box that will drop into the rear (similar to the Ambulance box made for the Pinz - http://www.pinzgauer.com/shpics.php?table=vehicles&idnum=150) that is designed for SAR use (more details in a later post on what I'm thinking for this) and then will be working with VMI Off-road in Washington to build it out of Aluminum to keep it as lightweight as possible - similar to what was done for this rig http://www.vmioffroad.com/products/expedition-vehicle-truck-conversion-2.html
The vehicle:
1972 Pinzgauer 710M
2.7 liter high performance motor with custom cam and forged pistons.
This engine makes 130HP! Stinger fuel injection system - customizable
New ML Mercedes rotors with 5 aluminum rims with tires (ML & GL Mercedes wheels will fit)
12" Wilwood disc brakes
Custom progressive front and rear spring sets
New dash with VDO performance gauges
Rearview camera system including custom mount
Sony radio with JBL speakers
7" GPS, MP3 player, SD card reader and XM radio
Two yellow top Optima batteries
24v/12v 60amp. Equalizer/converter
2 HID auxiliary lights, Lightforce made
9500 Mile Marker winch (100ft Kevlar rope)
Stainless steel air compressor
New body paint (matte sand)
New custom top
New tail light with reverse light
Lightened and balanced inner shaft
Expedition Imports side steps
New front seats with custom brackets (Mastercraft Baja RS - very comfortable)
Many miscellaneous upgrades as well...
And finally some pictures of the rig as it sits currently: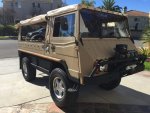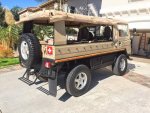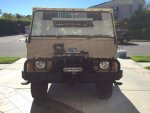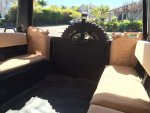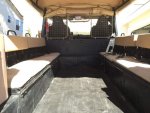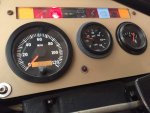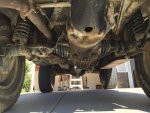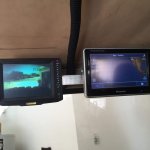 Thanks for checking it out, more info to come.
Last edited: