Hey all,
I have sprung a mystery fuel leak. When my 84 1010 runs for over 10m I have a Fuel puddle under the passenger side. it's leaking for up above and down onto the starter, then dribbles off the front drive shaft.
The fuel filter underside is dry, injectors look dry and nothing is wet under them when I run my fingers under them.
I've pulled the intake hoping for a smoking gun but nothing. I thought maybe it was the rubber fuel lines running from under the fuel filter to under the intake to the injection pump and lift pump. No dice.
I'm baffled because everything I can see or feel is dry.
Tomorrow I may remove the rear battery tray or see better the rear injectors.
I've smelled diesel when I shut it off since I owned for the last two years, but now I see fuel as well.
Do any of you have any ideas?
Any and all help is greatly appreciated.
thank you
edit: what's the small countersunk hole under the injector?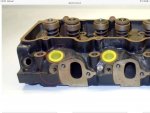 Last edited: