Heyya, it's me again. The guy who posted on the Bronco 3 some time back. This time around, it's still on the same vehicle, but in the civilian context. Non-military I know, but still fascinating enough to share I suppose.
This variation of the Bronco 3 is called the ExtremV. Attached is a photo of one; clearly, it's not intended for military ops.
Likewise, here's a vid I found of it in action:
The ExtremV is one of the civilian variants of the Bronco ATTC, and based on my research, it's being used for rescue operations in countries like Japan and Thailand. This video caught my eye, and it appears that the Bronco ATTC was developed not just for military deployment, but adapted for rescue missions including firefighting, emergency evacuations, and other forms of disaster relief. Much of its manoeuvrability is all thanks to its tracked system.
The model seen in this video being demonstrated in Japan has been adapted from the Bronco's base model, and I'm pretty impressed by its ability to traverse difficult terrain, offering extreme mobility and a back cabin that can be flexibly configured for multiple rescue missions.
Apart from Japan, it seems that the Germans have adopted it for humanitarian & rescue ops in light of the recent floods in Germany. Below is a recent article on this development: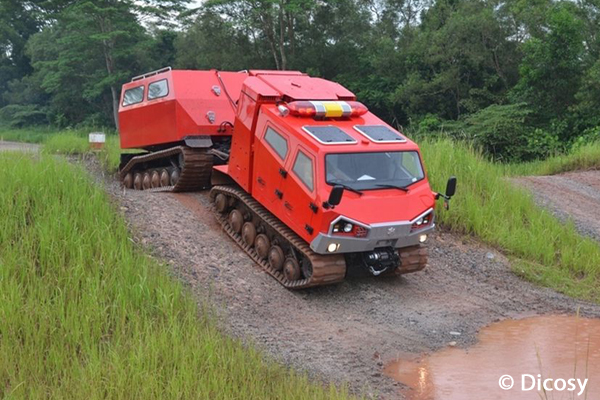 Meppen (NI)/Ettenheim (BW) - Die Firma Dicosy (disaster control systems) aus Ettenheim (Ortenaukreis) erhielt von der Bundeswehr am 28. Juli 2021 den Auftrag über zwei neue Löschraupen vom Typ ExtremV für die Feuerwehr am Standort der Wehrtechnischen Dienststelle 91 (WTD 91) im emsländischen...

www.feuerwehrmagazin.de
Seems like the Bronco 3 is becoming a favourite for various nations.
Does anyone know if it's being used in any other countries? Or if similar vehicles have been adapted for this purpose too?