Well-known member
Steel Soldiers Supporter
All-
I'm pretty good electronically... but I need to check my brain housing group function on this relay: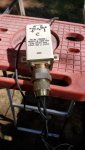 I'm hooking my lights up tomorrow and want to make sure I'm doing this correctly.
So:
A-> B is my contactor for the lights?
I go Battery (or hot) on A and connect the light plug to B.
That way, when the coil is energized, the circuit is closed and I have a path for power.
On the second part:
The

would go to battery "- "while C is plugged into one side of my switch, and the other side of the switch is connected to battery "+".
If I am correct, I should not have continuity (I'll use a meter to check before hooking up the lights) on A & B until I energize circuit C, correct? That way I know the relay is working?
Next question: If that's the correct setup, is it possible for me to use a 12vdc supply to energize the coil? I have an empty toggle on my overhead console that is already wired for 12vdc and that would be much easier than drilling and mounting the military toggle on the dash.
Last question: The negative lead of the light can be attached to chassis ground on the frame, correct?
I appreciate any and all help.