Kind of tangential to this FLU419 ownership but I suppose its here or nowhere to post this question. I am building a garage hopefully this Summer, next Summer if I get sidetracked. Its to house The Mogs, tools, woodworking, my sanity etc.etc.etc. I have been trying to find a STEEL building supplier that someone, anyone has used in the past to deliver on a solid red iron type building, NON QUONSET.
The MOGS are compact enough but the structure needs to be 15-16' H at the walls with a good pitch for snow and tall enough at center to put a mezzanine in the rear. 18 gauge should do the trick with my snow loads in Maine. If anyone houses there SEE's in a structure like that I would love to see it for reference. Also going 40x60 with lean too attached and on an unheated slab.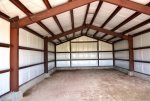 <<<like This
I will pour a slab but looking for an INTERIOR SUPPORT system like the above picture. Where does everyone else store there FLU's ? I'm not much for participating in the show your garage threads I see elsewhere. That being said they are great for reference and when I'm done I will post pics!!!
I know what I would like for the most part but don't see anyone with quite what I'm looking for in my area. Maybe you Midwestern folks know where this Steel building connection is? I don't see any special adaptations necessary for a FLU in a garage that regular heavy equipment workshops would not have.
A Garage would be pretty standard but perhaps there might be features possibly unique to these machines better suited to a steel building
-a place to remove and store loader and hoe
-strong building supports to hoist from
-punching bag for working through mog related issues and/or frustrations
-walls capable of trapping a lost German Unimog engineer to explain some of the finer points of Mog maintenance and function!
honestly don't know just looking for peoples experience with Steel Garage companies or comparable well built workshops for the layman. because I not only dislike my current tarp treatment I have had to contend with mice and squirrels. I have found a pretty badass electric trap that has more then earned its keep so far!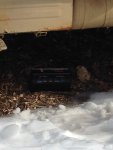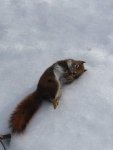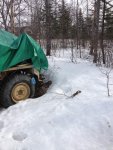 So let me know if you have found a STEEL garage supplier of competency and good value or what. Also witty banter and good ideas for a shop encouraged! thanks