The stock system works this way:
The stock GP relay is internally grounded. It does not use the mounting bracket for its ground. It needs a power source and a ground source. If you use an external ground relay (ie ford relay), you glow plugs will be on all the time and will burn out quickly.
At the Glow plug relay on the firewall
1 - the small pink wire is hot with 12v whenever the key is on
2 - the small blue wire is the ground for the internal coil and the glow plug relay controls it. When the controller senses the need for the glow plugs it closes the ground circuit and the relay energizes
To add a manual switch all you need to do is close the ground circuit. The easiest way is to add a wire to the light blue wire at the relay, a push button switch and a wire to ground. Very simple
Since the relay is handling all the power, the switch is just controlling the internal coil and does need to be rated very high. A 5-10amp switch is more that adequate.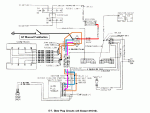 Last edited: