Well-known member
Steel Soldiers Supporter
Just thought I would share some pictures of what I mounted up on my 802 the other day.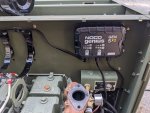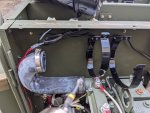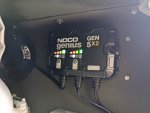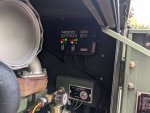 These products serve two very distinct needs in these sets
1.) Make sure your batteries are operational when you need them
2.) Onboard backup should your alternator fail under use
So the first is pretty apparent... mine is hooked up to a power entry port added to the side of the machine, which I simply unplug before use (you can source the input here:
https://www.amazon.com/gp/product/B009ANV81S/ref=ppx_yo_dt_b_search_asin_title?ie=UTF8&psc=1
. The second need is one of sheer defensive nature. I had a guy in PA who purchased a machine from me almost a year ago. Turns out even with his regular testing, something had gone wrong with the alternator. He had picked one of these up (rather, the unit that preceded this one from NOCO, but same damn thing basically) but had never installed it. Tornado came through his area, so he had to go live.
After the machine dying 8 hours into his use, and a new set of batteries being drained... we determined the problem. He thankfully had one of these on the shelf, and was able to put it to use to satisfy the DC side of the set. He charged the new batteries which had been exhausted in the second 8 hour run, and then powered this charging device off the front convenience outlet of the machine while running (through the same side power entry port I mentioned earlier).
A simple, double use product that can make the difference between you reading Steel Soldiers during an outage, or heating up a can of beans with a Bic lighter (only a slight exaggeration here). There are other solutions out there, including the solar packs the military installed, but just wanted to share what I did. Might help someone else during storm season.