Chief and Indian
Steel Soldiers Supporter
So to preface this whole ordeal, we normally drained this trailer if temps were below 20*F
We use a M970 as a water tender to feed grass rigs chasing fires. Normally have zero issues with 20's , unbeknown to us the belly valve failed, stuck, had a catastrophic failure of some sort. As normal, we drained all the piping, pump and lines, prepared for cold. Check on truck a few days later and have a water leak that has frozen.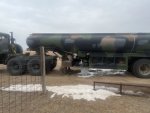 Today is warmed up in the 40's so i drag out a H82 heater and a tarp, begin the process of heating everything up and dumping 5,000 gallons of water. Come to find out, piping froze, split at Y, gates all valves split or bulged to nonfunctional, butterfly valves survived but the flanges they are bolted to broke the welds to the pipes, main pump cracked up center like an egg.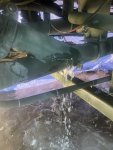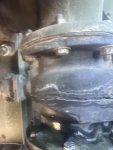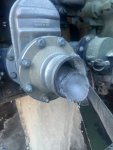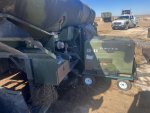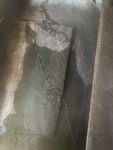 So now, my question is..... is there any pumps out there or does anyone have an idea for a pump to replace this Gorman-Rupp pump?
I can get all the valves, and can build or repair the piping, but have not had any luck on this pump. So I am asking for ideas.