Well-known member
Steel Soldiers Supporter
Hey guys,
I might need to move my M1009 soon, so I started fabricating a tow bar today. I want to keep it around and mount it in the bed of my M1028 by the time I get to that. Who knows when it might come in handy.
Tube is 40mm (1 9/16" )square tubing with 4mm (5/32") thick walls. The flat iron bar is 6mm (1/4"). I think it's strong enough, but I might put another one on top to make it stronger. It's what I had available to me. The "hinge" bolts are 16mm (5/8"). Bolt at the shackle hanger is 24mm (15/16"), a tad too small. Next size up is 27mm, but those won't fit the shackle hangers. I will probably drill out the holes on the tow bar and use the pins holding the shackles to get rid of any slack in there. I need to get proper sized and shanked bolts, these are just for test fitting.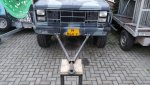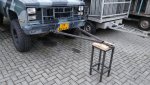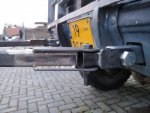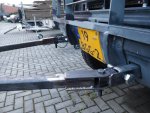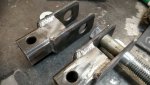 Not sure how to mount the eye yet. Hope you guys go easy on me after seeing the thread from the guy welding angle iron to the shackles
.
Last edited: