Hei hei!
After getting a deuce back in 2013 I am finally getting around to improving it. My plan is to use it to promote my woodworking business. The good news is that in Michigan you do not need a USDOT number for travel within the state for anything under 26,000lbs, and the truck already has commercial plates and insurance so it is ready to go.
In the winter winter of 2013-14 I had some cold weather issues with the coolant system and batteries, but I got that fixed. Last Summer I fixed the cargo cover, added a bed crane, fixed the electrical system, fuel pump, halogen headlight upgrade, changed coolant hoses, fixed winch pto shear pin yoke, and greased all the grease fittings.
This past winter the truck pretty much stayed parked, with an occasional drive to keep everything working and a 160 mile round trip to pick up 12 new tires and a transmission.
Starting this week I am beginning the following in rough order.
Paint entire truck in either 24087 or 24084 OD green semigloss
Pull all wheels, repaint rims
Grease wheel bearings and other fittings
Inspect and adjust brakes
Bleed brakes
Engine oil change
Oil filter change
Diff, transmission, and transfer case oil change
Fuel filter change
Custom designs painted on truck along with business logo magnets
Muffler
Remote brake fluid reservoir
New seat covers and cushions
Al's Heat and Noise reducer spray coat in engine compartment and cab
Spray on bed liner in cab, engine compartment, and bed
Custom cut rubber stall mats for bed and cab
Insulation on firewall
Locking door handles
Rebuild air wipers or get electric
Fix windshield and door seals
Canvas shift boots
Battery equalizer install
12v system wiring and breakers
GPS, CB, scanner, stereo, amp, and 6" speakers on soft top rails with 12" sub under seat.
2m/70cm transceiver with remote head
Overhead console with light
Ammo box center console with cup holders
Back up camera
Back up lights
Truck bed tool box stocked with all necessary mechanic, recovery, and forestry tools.
Civy hitch adapter kit
EGT and boost gauges
Turn up fuel
Mount new 9x20 ndts on rims
Kit to connect dually valve stems together
Hard top
Future bigger tasks that are doable with my skill level and resources:
Slide in bed camper/mobile ham shack
Water injection system
Exhaust brake
12v alternator kit
Spin on filter conversion
Air drier
Diesel fired coolant and cab heater
Fuel control cable connected to FDC. Can turn up or down fuel rate from cab.
Dream modifications (even when I have enough cash my fabrication skills are not too great)
Dump bed
Super singles
Power steering
Rear pto with hydraulics
Cut bed shorter and install a small hydraulic crane behind bed with hydraulic outriggers (lift logs and camper into bed!)
LineX coating on bed, underbody, and cab
Cummins 5.9 repower if engine dies
Buy more green iron!
Here are some pictures of the truck in it's current state (taken last year):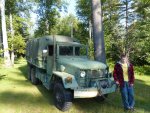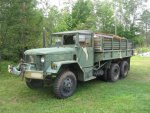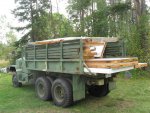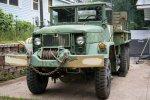 Last edited: