Alright well… I thought it was going to be all downhill from the flywheel job. I was wrong! Re-installing the transfer case on the ground by myself was really damn tough. I got it done though!
I modified my tranny jack and drilled some holes for 1/4-20 bolts and mounted some 2x4s to it to stand the transfer case up.. the only problem is it was too tall to fit under the truck like that so I had to roll it under on its side and then stand it up on the jack when under the truck.
The tranny jack has wheels so it kept wanting to move around while I was trying to stand the transfer case up and I'll be honest, I almost dropped the damn thing. With all my might I stopped that from happening and got the transfer case standing up on the jack. After taking a few minutes to rest I jacked it up and got it slipped onto the transmission and bolted in!
I know there's probably better ways I could've done it but I'm over here working with what I got and as a one man show.
A beer will taste very good tonight.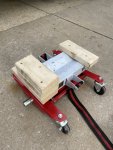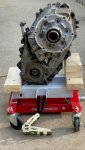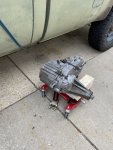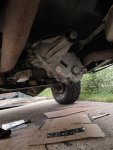 Last edited: