Well-known member
Steel Soldiers Supporter
Took the ferry over to Everett this morning to pick up an auction win. A Titan Model 250000 wheel well tool box, brand new in the box. I've been looking for one for a couple years now- there's no place on the M1101 trailer to store tie-downs and other stuff. I considered making a box out of an old Jerry can, but too much effort for very little space.
I've seen some wheel well tool boxes come up on craigslist but people want too much money for them. Someone local had a used pair in good condition and he was firm at $85 each - and no key.
So the Titan came up on the local auction and nobody bid. I entered a $30 bid and it said Reserve Not Met, so wasn't sure if I get it or not. The Monday after the auction ended I got the email- winner! Paid online and went to pick it up today.
While I was there I noticed they had three more of them, and asked if those would be coming up on the auction, the (very nice) lady said they would be, but if I wanted them for the same money she'd sell them to me. BONUS! I bought all four, and will likely use two in the M1101 trailer and flip the other two.
Canned pictures below. The four boxes are still in the jeep waiting on the torrential rain to stop. There's a how-to video here: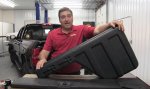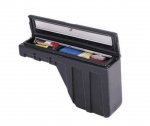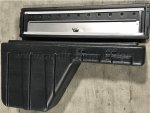 Last edited: