Well-known member
Steel Soldiers Supporter
Not too much done today. I wish I had cucvrus' knowledge so I could take the whole truck apart in half a day. I'm learning as I go, trying to figure out how the truck is put together and taking reference pictures for later.
Unmounted and disconnected more stuff on and going through the firewall.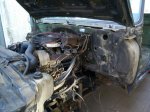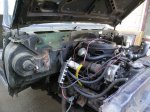 Next time I will take off the master brake cylinder, shift linkage, hood and windows. Then I have to organize a BBQ for friends... can't lift the cab off on my own.

Moved the M1009 away. Swept the working area (**** pine trees!). I will move the truck forward and put the cab on a stand behind it so I have room in front of it to take the engine out. Might even have enough room to put the bed on a stand behind the cab.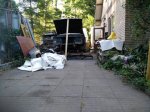 Never really looked there I guess, but I found rust on the top/right side of the windshield. This really bothers me! I hope it won't be too bad...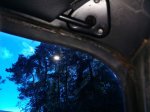 Last edited: