Where to begin...
FUEL DENSITY COMPENSATOR BY-PASS
I'm very motivated by many you all's projects on here. The crew cab I would love to do, the campers, etc. I follow a lot of threads. I've been researching many mods. I've been reading this forum for months. One thing I was very hesitant to try was the
Fuel Density Compensator by-pass
. First of all, I had to Google what a FDC even was because when you search this forum for "FDC", you get "
Sorry - no matches. Please try some different terms."


So by Google, I found out that FDC stands for Fuel Density Compensator. And when you DO find a thread about by-passing the FDC, nobody calls it by its complete name. No big deal.
Anyway, to break things down as 'Barney Style' as possible for other beginners, the fuel density compensator is a device immediately after your final fuel filter that increases the amount of fuel flow - or decreases the amount of fuel flow depending on whats in the gas tank. It's just a device that adjusts the fuel flow rate.
It flows more of some fluids to increase power output and flows less of other more combustible fluids to keep the power (and heat) down. The motor is a multi-fuel motor, and it'll always be that, but without the FDC, you'll have 10 horsepower one day and 400 horsepower the next.
SO, BY-PASSING THE FDC, IT ALLOWS THE TRUCK TO FLOW AS MUCH FUEL TO THE MOTOR AS POSSIBLE WITHOUT ANY RESTRICTIONS.
CAUTION
- This changes everything. It bumps the fuel up on your motor a lot. It changes how much boost your turbo makes (a lot more). It changes your Exhaust Gas Temperatures (higher). It's a must that you monitor your EGT's with a pyrometer.
I installed a boost gauge and a pyrometer at the advice of several on this forum. I followed other thread's instructions, and without them, I'd be lost. I'll post some pictures of my install later. Anyway, assuming you know a little about your turbo motor, it builds boost depending on the flow of exhaust gas. The more fuel --> the more exhaust gas --> the more the turbo spins --> the more boost is made --> the more air is forced inside to mix with more fuel --> the more exhaust gas --> the more the turbo spins...until you get the max.
This means that with fuel flow of X plus air flow of Y - you get exhaust flow of Z. (Super simplified)
X + Y = Z
My "stock" boost was 5 psi.
That was in 5th gear, on a perfect day, up a long hill, for several minutes. Meaning, I drove my truck up a hill and it held the same RPM and temperature and boost and MPH at a constant long enough for me to judge that that was all my truck was going to do. It wasn't going to sneak out another three pounds of boost after several minutes of 100% throttle. I "quoted" stock because my truck is a 1971 and I have no idea what they are suppose to be - and I have no idea how many people have owned it or what they had done to it. Whatever. Don't care.
My "stock" EGT's were 950 degrees during the same up-hill test. No load in the back. Actually, no bed on the truck at all. Just an empty run. While pulling a large load, from what I understand, it'll make the same boost - but increase the EGT's the longer you hold the throttle down.
SO - with my stock motor, it flowed "X" amount of fuel and "Y" amount of air flow - aka boost - 5 psi. This resulted in "Z" amount of exhaust gas at 950 degrees. Keep in mind that it only makes boost when the engine revs high enough. There is no boost at idle.
SO - when you INCREASE the fuel rate substantially at "X" - it doesn't immediately increase "Y". The motor has to burn the increased fuel FIRST and then the turbo spools faster because of this. As a result, it does increase the amount of air flow "Y"
SO - because of the increased "X" and increased "Y" = you get an increased "Z", more boost and higher temperatures.
Here is a Technical Manual picture of the Fuel Density Compensator and a picture of my FDC before I by-passed it. It might be a little confusing because my picture was taken from the driver's side of the vehicle looking down (left of the picture is front of the truck, right of the picture is the rear/firewall). In the TM manual drawing, its reversed.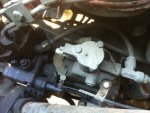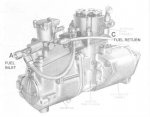 Still with me?
Here's what you have to do to by-pass the FDC. Here's a picture I took for reference: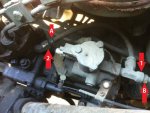 STEP 1 - Take off pipe fitting 'A' and pipe fitting 'B' - Let the hoses dangle. There wasn't really any fuel in my lines and I had just drove my truck earlier that day.
STEP 2 - Put pipe fitting 'A' where pipe fitting 'B' was at. (On the "T" shaped pipe fitting connector '1') I had to loosen the other end of the short hose to allow it to twist around and make a circle. There's a picture below of the short hose making a loop.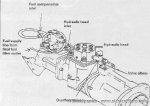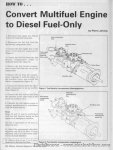 STEP 3 - Now, here's where I got screwed. I saw the picture above in SEVERAL other threads. Nobody (to my knowledge) mentions that the mother f'ing hose isn't long enough to reach. What needs to happen in STEP 3 is --> Put pipe fitting 'B' where pipe fitting 'A' was at. (On the 45 degree elbow pipe fitting '2') However, the hose runs from the final fuel filter to the FDC and is about 5 inches short of reaching 'Pipe fitting 2' (in my drawing). It wasn't meant to fun all the way past the FDC - it was meant to run to the FDC, end of story. The 45 degree elbow is sticking out of what's called the hydraulic head I believe.
On a separate note, I thought this was suppose to be a fast and easy by-pass. And actually it was on pace to being very quick (15 minutes). However, I had to take the stupid hose off, take it to a friend that made all kinds of brake lines, fuel lines, etc - and have him make me another line that was 6 inches longer for $35. It took a couple of days because he had to order the right size olive rings that go inside the fitting.
Here's a couple of pictures of where both ends of this particular fuel line are. One side comes from the final fuel filter (90 degree elbow) --> to the FDC. I had another line made that was about 6 inches longer. When you take it off, you can see pretty easy how much longer it needs to be. With these two lines swapped, you're half done with the by-pass.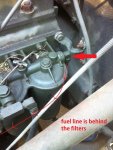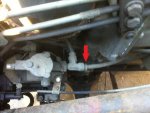 Now, you're half done. There's another line that needs to be removed - and I'll finish this tomorrow when I get the pictures off my work computer. I'll edit this part out tomorrow.