BIG DUMMY
Steel Soldiers Supporter
Last week my Dad & I took my Deuce on a long road trip to Oklahoma City, OK, and eventually to Dry Creek, LA. I had won several items in OK City, as well as an M931 tractor in Fort Polk, LA, and wanted to pick them all up in one fell swoop. We left Utah for Las Vegas, NV, and then connected with I-40 East. We were lucky to pick a time when there was a break in the weather across the midwest. The Deuce had several hundred gallons of mixed & thinned WMO/UMO (dewatered & filtered down to 2 microns) on board, and another 55 gallons in a drum in the bed. I had just installed a new 4-inch intake all the way into the turbocharger, and a 5-inch exhaust with Donaldson single-stage muffler that I wanted to road-test, so this gave me the perfect opportunity. However, my Deuce has no heater nor defroster, so I was hoping that it wouldn't be an issue...we bundled up in warm clothing for the initial 3-day drive to OK City & east Texas.
The new intake & exhaust made the engine perform quite a bit more efficiently, and the new exhaust really helped lower EGTs. Of course on hills it still required downshifting usually to 3rd gear, but what more do you expect from a 140hp engine and 395 tires? I was quite satisfied with the performance during the trip. I only had to stop twice to add diesel to the tank before shutting down for a cold night; I didn't want to have any hard-starting mornings due to fuel issues. It didn't let me down and started right up every cold morning.
In OK City I was only able to pick up an Oshkosh transfer case I had won; I really was excited for the 3 front drive axles from a MaxxPro MRAP, but the government had placed a restriction on them and I was refunded the balance...bummer!! Then it was off to Louisiana.
We caught a break in the snow in the drive from OK City to Dallas, TX, but there were dozens and dozens of cars and trucks still off on the right shoulder and in the median from the previous storm...we made it to Louisiana after 3 days of driving, including a pickup in OK City.
The only issues I had was that the fuel shutoff cable broke the very first time I tried to use it at the start of the trip; I had to open the hood and shut down the engine manually afterwards. And during a perpetual monsoon between Tyler, TX and De Ridder, LA, I thought that we were going down with the ship due to all the leaks in the cab! I even used some door/window sealer around the front windshield and other potential leak points, but I sure missed a lot of them. The electric wiper conversion worked well, except for the windshield wipers wanting to fall off due to a poor design...I secured them with some bobby pins I purchased from a convenience store. Towards the end of the drive, so much water was leaking behind the dash that the pyrometer started to malfunction, so I drove even easier & slower to not risk too-high of EGTs. I'll have to relocate the pyrometer to a drier spot.
Once in Louisiana, we met with fellow SS member
Jeepsinker
, who had picked up my M931A2 tractor from Ft Polk for me, and given her a quick once-over. We had lunch together, and then went to pick up my truck from his property. I was quite impressed with Jeepsinker's abilities and qualifications; if you ever have the privilege of utilizing his services, you won't be disappointed! I then prepared the M931 to tow my Deuce back to NV & Utah with my towbar. I stopped in Walmart to buy some LED trailer lights & wiring, as well as a few other items, then attached the LED trailer lights to some temporary mounts on the back of my Deuce. I scotch-locked the appropriate wires into the M931's rear lights, attached the towbar, moved the license plate to underneath the temporary trailer LED on the back of the Deuce, and connected the safety chains with several wraps around the front spring mounts and bumper (I also safety-wired the hooks to prevent them from falling off, just in case). I was wishing I had had the time to fab up some air hoses to connect to the Deuce's brake system, but it just wasn't happening.
I was debating having to disconnect the driveshaft from the Deuce while towing it, but as we were running short on time I decided against removing it...I shifted the transmission & transfer case into Neutral, and with the many stops we knew we would be taking, I figured that it would be OK. We took I-10 back west to avoid the snowstorms that were due to hit along I-40, but we were surprised by just how cold it still was across Texas & New Mexico...we ran into several ice storms in southwestern Texas, but made it through with no issues. I was just glad that the M931 had a working heater & defroster! The Deuce tracked perfectly and seemed quite content to be towed. After 1640+ miles and 3 very long days, we finally made it back. I am going to have to swap the seats out of the M931 though; my back is going to hurt for several days after suffering on the stock military seats. I guess the M931 wasn't ever intended to be driven that far for that long!
It all worked out very well.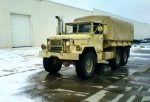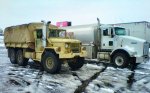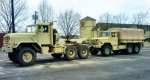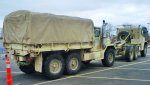 Last edited: