Some year ago a rare/unique 1941 dodge airflow tanker truck was rescued and showed here:
something a little different for you guys!! Link to photos: ENJOY!! DODGE TANKER pictures by meatball427 - Photobucket (dean my car hauler friend can be reached at 1 909-996-2710) he lives in california, and travels ALL over,, call him for shipping quote!! He hauls DUKWS!!!
By accident I find a auction page that showed this same truck was sold some time ago, anyone knows something about the current status? I hope that it as saved from scrap... and to be restored, not desmantled for a ratrod, car hauler, or parts... the sale value was $900 US dollars.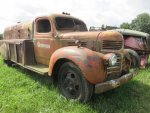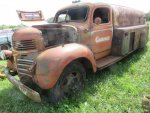 Last edited: