Evening all! I picked up something today that is quite interesting (at least to me). Its a 30 KW Navy "portable" generator powered by a Buda Diesel Engine. I would like to see if any of you might know some information on these units. Here is what I know based off the data plate:
Year of Manufacture: 1955
Engine Serial Number: 71904
Unit Serial Number: 6
Registration Number USN: 51-06019
Date Shipped: January 1955
Unit Manufactured by: J. R. Hollingsworth, Phoenixville, PA
On the Buda Engine Plate
Mod: 6DT-468
Gov: 1200 RPM
Bore and Stroke: 4 1/4" x 5 1/2"
B/M: D7468 A
Serial Number: 71904
Have anyone ever seen a set like this?
Anyone have any TMs, Manuals, or documentation?
Anyone know much history about this?
She starts well, purrs like a kitten, and makes electric. I am happy to add the first A-C Diesel to my collection. What kind of pictures would you like to see?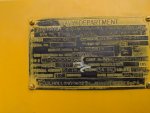 Thanks!