Sooo this might be a long post but bare with me.
I have a 1977 m880. Iam currently rebuilding the engine(just getting parts together) with my cam with lifters, intake manifold, timing chain and gears and 4 barrel carb. But first i decided to drop the gas tank and clean it out.
All went well and i cleaned it out but i couldn't get the fuel sending unit out even after using a impact screwdriver so i left it alone. Reinstalled the tank and put about 8 gallons of fuel in and my truck started(using fuel that was already in the carb) It ran for about a min but i noticed no fuel was being pumped through the fuel filter and it cut off.
The fuel gadge works, I put a new fuel pump in i had laying around. But still no fuel going to carb. My question is could i have damaged the fuel sending unit causing it to not send fuel to the pump?
I just dropped the tank again and realized the line that send fuel to the pump was bone dry soo im guessing no fuel has even left the tank yet.
Just to recap with some cliffs.
1.cleaned out gas tank,fuel sending unit wouldn't come out
2.reinstalled gas tank truck started with fuel left in carb
3.Noticed as soon as it started no fuel was gushing through fuel filter.
4.put in new pump and still no pressure
5.dropped tank again and fuel lines were still dry
What could be causing this?
I plan on disconnecting the rubber hose and the fuel pump and routing it to a small jar with gas to see if the pump will suck gas through when cranking.
Thanks for any help.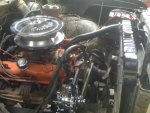 most updated pic of engine i have new ones soon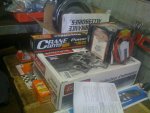 and all my parts