EDIT, At the request of the hosts please use the original NJ MTA info thread for listing buy, sell and trade items. Thanks, Lance


http://www.steelsoldiers.com/showthread.php?165234-2017-mta-spring-show-april-22-23
OK, Folks!!
We're two weeks out and I can't find a buy, sell, trade thread?!
If there's another buy sell, trade thread that I couldn't find I hope a moderator will come along and merge them....
If memory serves we have spaces P5-10 in the last covered outdoor space building.
We're moving to our retirement place in North Carolina this year and cleaning out what's left that won't make the trip. I've been spoiled by having two of these Morton buildings on the farm but won't have a shop at the new place until I can get around to building one....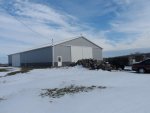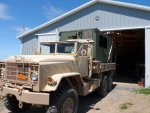 I'll be posting a lot of items over the next week or so. We're also parting out three rusty but running M1009s. One only has 19K miles on it. If you need anything let me know and I'll see if we have it. I think there is only one good hood left and a lot of the sheet metal is rough......
UPDATE, 4/9/16 There are now two parts M1009s. Somebody came by today who needed enough parts that it was easier to sell him a truck.....
Lance
Last edited: