I bypassed the glowplug resistors a while back because others had done it. I also have a volt meter on each battery so I can see how each is doing. I didn't like watching the front battery drop to 10V or lower during startup nor am I a fan of swapping the battery positions every few months. I run a lot of 24 volt accessories that I have from surplus government vehicles... 2 24 volt winches, many lights and an Outback 24 volt inverter/charger sooooo.... I went a different route. I installed a 120 amp 24v to 12v inverter to run the 12 volt side if the truck but pull voltage from each battery equally all the time. It was pretty simple and so far it is working well.
I have a 2 gauge wire that comes off the inverter and feeds the 12 volt block on the firewall where the truck and glowplug solenoid draw their 12v from.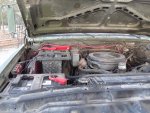 I installed a 12 volt block in between the batteries. The positive side of the front battery and the negative side of the rear battery are connected here. I had to route the alternators the same way otherwise this wouldn't work. (The drivers side feeds right into the block on the firewall normally.)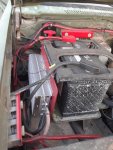 I mounted the inverter to a piece of 3/16 plate that I cut and drilled and hung it from the rear battery hold down. I also installed a 500 amp battery disconnect on the 24v side. There is a 24v 80 amp circuit breaker protecting the input side if the inverter (as required). Best of all if the inverter fails I can simply disconnect the 12 volt output wire and reconnect it to the 12v junction right there next to it.
Now both batteries are drawn from for everything. It is actually a constant 13.8 volts output so now my blinkers and everything 12 volt run very consistently. There is still quite a draw from the batteries during startup but it is nice to see each drop to around 11 volts rather than one dropping to 10v.
I hope your team won the superbowl. Stay safe out there.