Member
Steel Soldiers Supporter
Here is a rig that I made yesterday to get 24 vdc to test generator components, lights, relays, solenoids, etc. This could be used on trucks or anything with a 24vdc NATO socket.
I had a NATO plug / cable laying around gathering dust, so I thought I'd use it. Materials are the jack side of a four pin Amphenol connector ( I got mine from a scrap generator in the shop), a on/off toggle switch, and a momentary contact off / on (MC) toggle switch, and lastly a conduit plastic box.
I wanted to be able to tap off of a generator (or truck) that had a NATO adapter on it and have two 24vdc outputs available. One would be 24 vdc (green) on or off and the other 24vdc momentarily on (red). Black is the ground terminal
Last thing I did was to replace the fuse in the NATO adapter cable with a 5 amp fuse. 15 amps was the "stock" value, and I didn't think I'd ever need or want 15 amps at the output of the "Z" box.
It would be easy for anyone to make, and sure will come in handy. There are any number of ways to construct one of these, this is just the way I did it.
Next I'm going to make a cable that could be connected to a standard 12 volt battery. Put an Amphenol plug on it and the box could be used for 12 or 24 vdc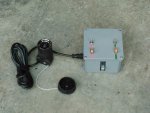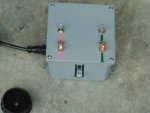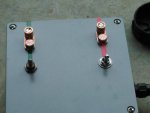 Last edited: