Well-known member
Steel Soldiers Supporter
Today I had my first trial fit with a front jake head installed under a stock hood and it was a success! Woohoo! ...Okay, i had to trim the middle hood support channel, but other than that no cutting, spacing, clearancing, denting or hood scoop done to the hood. I've been poking away on my quest for jake brakes on my M813A1 and this latest focus on getting that third head to fit is all based on the premise that you don't need a pent roof valve cover for rocker adjuster clearance because all the rockers are now buried in the jake head. Besides atvcat33, everyone (at least from my research) adding 3 jake heads to an NHC-250 on this site has had to do a fair amount of surgery to get the hood to clear. Here is how I got it to work.
I stuck a tape measure down on the block and closed the hood on it and it stopped traveling at this point.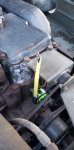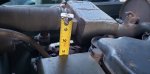 The bottom of the jake head would be flush with the bottom of the 3/16" thick radiator support bracket so on my truck I have 3 5/16" clearance and my 25B jake heads measured 2 5/16" tall so that leaves 1" left for valve cover and gaskets. I ordered an extra valve cover to play with my idea while keeping my truck running and this is what the cross section looks like.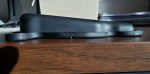 Now can enough material be removed during a tummy tuck to get this under 1" tall?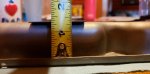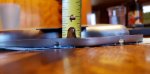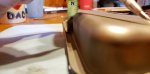 The tangent point where the top radius becomes the vertical side is 3/8" below the top surface and not wanting to cut into the radius I marked lines 3/8" below the top and 1/4" above the flat flange area. The little outer perimeter rail is mostly 1/4" I.D. tall so if a saw blade or cutoff wheel were to rub against it while cutting the cut would be 1/4" above the flange.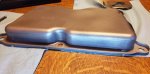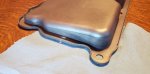 At the highest point of the valve cover peak almost 7/8" can be removed from the side wall.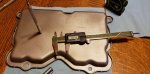 Initially my idea was to bolt the valve cover to a large wood post on its side and slice this triangular sliver out with a band saw but the amount a band saw blade wonders during a cut made me shy away from that idea. Next up is the quick and trusty cutoff wheel! I used some 3/8" flat bar to make a cutting guide for the top cut and I used 1/4" keystock to lay in the flat flange area as a guide for the lower cut.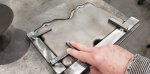 Maxed out of number of pics...
Last edited: