Hi folks, I am looking for some help.
Looking for pics how and where Mercedes located the the pivot point of the radio box.
I found this picture on the web.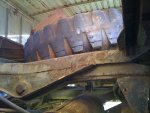 It looks like that the cross member rests on top of a normal bed support? Are these the battery cable I see on the right in the picture?
This box looks like it is missing the floor panels? The floor support seems to be bowed, at least not straight... Is the floor in the box curved?
Is this the front mount directly behind the cab?
Is there another one like this on the end of the frame?
Anybody a link to better pictures or willing to make pictures ?
Anybody has these parts laying around?
Many Thanks.
Johan
Any pictures of the hardpoint connection of the box to the frame?