Moderator
Staff member
Moderator
Steel Soldiers Supporter
Worked out the details on the clocking ring, the clocking ring is aligned in reference to the transfer case by the 6 flat head (tapered holes) bolts, it is aligned to the factory transfer case adapter only by the 6 studs, the holes in the adapter are almost 1/2" in dia. and I originally built the clocking ring for a 700R4 it had 10MM studs, I drilled and re-tapped them for 7/16 studs but there was still much more "slop" than I could be comfortable with, I carefully aligned the clocking ring with the adapter and drilled it for three dowel pins, because of the limited "meat" available on the adapter about 3/8" wide I could only use 1/8" dowels but it will get the job done as the crush from the bolts along with some badass Loctite 638 will keep in in position.
I did manage to get those Allen head bolts torqued to 40 ft-lb, I think the factory spec is 38 ft-lb
I am not sure how others get away with just bolting them together but there are tons of clocking rings out there, I may be just be too picky...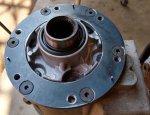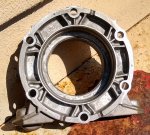 The last of the hardware needed will be here Sat. so I can get the transfer case attached to the 6L80..
Also note the weep holes in the adapter, this is a dry coupling as the transmission has a seal in the case for the output shaft.
EDIT, oh yes I forgot, the holes in the transfer case go through to the inside of the case so I used a thread sealer/locker on them.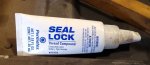 Last edited: