Active member
Steel Soldiers Supporter
First, despite the title of this thread, the batteries do not weigh seven tons.
I know many of the 7 ton trucks we get from GP are missing the batteries so I thought I would tell you about what I know about the batteries for our trucks.
MY truck came with the batteries. When I went to pick it up I brought a volt meter and I tested both batteries. One battery had 4.1 volts and the other had 3.6 volts. Now these are 12 volt batteries so I was glad I brought two fresh batteries with me. I brought just regular car batteries and even though they worked for the 576 mile trip home, I could tell the car batteries were not a good match for a Diesel MK23 truck. Here are photos of the batteries that came in my truck.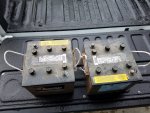 Here is the brand: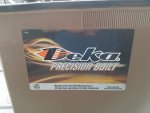 Here is the specs label: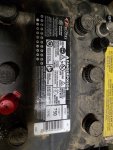 The yellow labels talk about how the battery is a controlled item and cannot be exported. It is illegal and selling the battery is considered arms trading and legal penalties apply.
Anyway, these are really big batteries and they fit nicely into the MK23's battery box. I was not worried about the Deka batteries moving around in the battery box.
So once I got home, I knew I needed new batteries for a few reasons, not the least of which is that the temperature was down to less than 20 degrees and at that point the batteries lose a lot of their power. So I started shopping around and I found out quickly that I was not going to be able to purchase the military batteries the truck had before. At least not for a reasonable price.
So I started looking at semi truck type batteries. I found some but the store was a long ways away and they were expensive too. So I was just googling and an ad came up for BatteriesPlus. I thought, what?, do they sell car and truck batteries too.
Well, it turns out they do and it was a good price. Plus there is a BatteryPlus not far from my place. I went with the biggest ones I could find and they are vibration resistant too.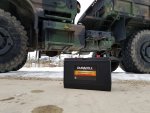 One issue is the battery is still small compared to the military ones. I mean these are big batteries, too big to fit in a car or truck, they are still too small for the space in the 7 Ton battery box. So I put two of these into the battery box, stuffed a bunch of hard plastic items around them, and then tied them down. I did all that because I was afraid that the batteries would be bouncing around in there.
One nice thing is that the batteries were around $110 each and they have 1,100 CCA. I got batteries with posts so they just bolted right up.
These batteries are connected in serial so the voltage to the truck is 24 volts (actually 26.4) and the thing to remember is that if one battery is not good, you are not going to get the full power you need. It is always best to replace both batteries.
Another nice thing about these batteries is that they are sealed so you don't need to add water. If you go fording water, the dirty water will not get into the batteries. However, I think that the batteries might short out because dirty water does conduct electricity so I don't think I would be fording water deeper than the top of the batteries.
Last edited: