Last weekend, some friends and I were invited to the former home of the USAF's 20th Tactical Fighter Wing, here in England, RAF Upper Heyford.
Though it's now been repurposed as a business park, the flightline is still largely intact, and the Upper Heyford Heritage Center put on regular bus tours of the former airfield. My friends and I are re-enactors who portray a late 80s USAF Security Police team, and we were invited to accompany the tour to help bring the former airfield to life for the day.
I purchased my M1008 largely because the group needed a vehicle for doing what we do, and as an ex-air force truck, this is almost certainly what it would've been doing in service. So on Sunday, I put on my Air Force show plates, put on the light bar, and for just a few hours out there on the flightline, where you couldn't see any of the modern stuff, it was 1987 again.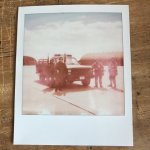 I only got a couple of polaroids, as I was too busy driving the truck and holding a rifle, but the photographer who was with us for the day got some great shots of the M1008 in its natural habitat.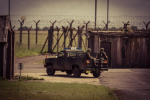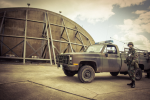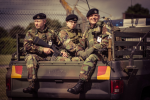 Not pictured is me hitting 60mph down the main runway with the lights and sirens on, trying in vain to catch up with the tour bus. Unsurprisingly, it turns out a 1 1/4 ton truck isn't built to be a pursuit vehicle.
Last edited: