Hi All from a new member,
Thanks for all of information here at SteelSoldiers.com, it has been a tremendous resource.
I looked at this DUKW for sale today. It is down the street from me here in California and the owner is firm on his $25k price.
l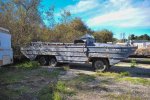 It runs, the brakes are soft so stopping power is minimal, rust penetrated around the fenders you can see in the photos.
I would love to drive this on our beach here and do some resto on her.
Next week I will be in Washington in the same town as this restored DUKW for $89k:
l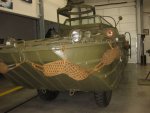 This would be my first MV. Based on my past restoration projects, I suspect that the $89k DUKW is a much better deal.
But I was looking for a daily driver, not a museum candidate and not sure I would enjoy taking this beautiful DUKW on a drive in the sand dunes here.
Any thoughts and advice are appreciated.
Sincerely,
John
Last edited by a moderator: