Active member
Steel Soldiers Supporter
I found an air leak on my truck. I had started the truck and I was going to clear some of the snow off of it when I heard an air leak. I could hear the leak because snow in the bed was melting and the water was running down onto the dryer. The water ran down to the bottom of the dryer where it mounts like a spin on oil filter. The water was bubbling around the base and because of that, I could hear that air was leaking. So I found a large strap wrench and tightened it down. Unfortunately the air kept leaking. So then I had the thought that the water had seeped under the can when it was loose, frozen, and now I could not get it tight against the seal. Turns out that I was almost correct. It was mud in there. So I recommend that you check this for tightness on your truck.
Here is what I am talking about. It is on the driver's side just behind the battery box.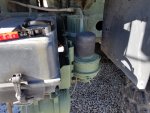 Here it is with the "spin on filter" taken off.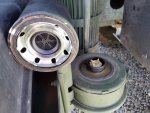 So I cleaned both the bottom of the filter where the rubber seal is and the mount which looks like it has a seal but it is just black metal. I also put some solution on the rubber seal to make it pliable.