Well-known member
Steel Soldiers Supporter
This project is to put a Unimog 404 radio box on an M105 trailer frame/axle. Maybe the modifications on the M105 will be helpful to others, especially the method used to extend parking brake and service brake linkages.
M105 trailers are nice trailers. M105 beds seem to be favorites for use on 'bobbers' and that has left some orphan rolling chassis available
I camp a lot in a Unimog U1300 with Alaskan camper. There's not much room in these campers so I give my wife preference over radios. With a radio communications trailer behind the Unimog I get to chase that hobby too!
Here are some pictures of the process. The trailer is picked up at SSGR14, thanks to RECKLESS.
.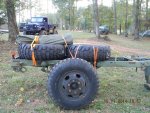 Flipped it over and removed axle supports, drilled new holes, and reinstalled the axle almost all the way to the rear. The exact position places the wheel-wells of the radio box over the trailer wheels. A lot of the weight is transferred to the tongue but that is no problem for the U-1300.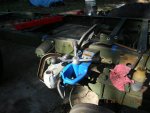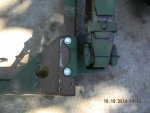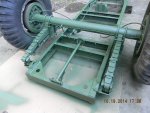 Painted the bottom then flipped it over again and painted the top. Then the brakes were modified. A piece of heavy Unistrut was cut to bridge across the frame. The Unistrut was mounted on the same bolts as the front spring hangers.
The parking brake cable ends were secured to the Unistrut with Unistrut nuts, two square washers and bolts. This was a direct bolt-up with no piddly work.
Extending the linkage was done with off-the-shelf threaded rod and coupling nuts. The turnbuckle is 3/8-24 threads so rod was bought to match. Got the rod and nuts at Fastenal. Just cut the length you need and screw it all back together. Antiseize paste was applied where I didn't want paint to lock up threads.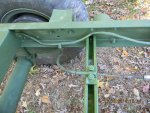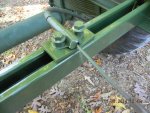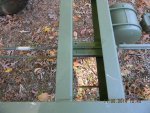 That's the progress so far.
I will add pictures of the box to be installed on the trailer. Then the box will be refitted with the original furniture and goodies.
Last edited: