Well-known member
Steel Soldiers Supporter
Several years ago when the first of the M915 "Series" of trucks we being released before I was born here
many incredibly talented men (the Old Guard I call them

) grabbed these monsters
and posted up how to's and like, like they were going out of style.
The wealth of information one can find here is great. Extremely time consuming but
there are some real nuggets. The old guard, for the most part less a few hold outs have moved on,
bought bigger or more toys and or have just lost interest or sold or suffer from forum burnout.
I so wish there was a forum dedicated to these trucks
and as good threads are found
they were moved into it. The 5 TON forum has grown HUGE.
The M915 Series of trucks as I know it is the M915 , M916, M917, M918, M919, M920 - A1 A2 A3
I am going to post my thoughts for others and for reference w/ emphasis on the M916.
I hope this thread stays on point w/o a lot of useless banter. Try to
stick to the facts, and please correct me if I am wrong. There are other
threads and many went astray.
___________________________________________________
On the PS and DS of the truck outside there are two electrical outlets.
BII for the M916 was a flood light to be used there. I wish I could
find one priced right. I wrote Hubbell Co. and I got the spec's on
those plugs so we can buy the plugs and make our own goodies.
The female connector on the bottom is what should connect to the trucks male recessed outlet.
The majority of the electrical components on these trucks are 12VOLTS, so are there these plugs;
http://www.hubbellcatalog.com/wiring/section-b-datasheet.asp?FAM=Locking_Devices&PN=HBL7465V
HBL7465V -- Twist-Lock Valise Plug


http://www.hubbellcatalog.com/wiring/section-b-datasheet.asp?FAM=Locking_Devices&PN=HBL7464V
HBL7464V -- Twist-Lock Valise Connector Body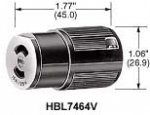 Last edited: