Have spent the last few years building this monstrosity of a motorhome, and now that it's almost finished, it's time to start putting together a little Jeep to go with it. Have a fresh Buick 225 V6 and an SM465 and Dana 18 transfercase with a Warn overdrive (25%). But I just put a brand new LDS465 multifuel engine in my motorhome, and I'll have the ability to process fuel onboard, using this system that Racor helped me put together. So it would make a lot of sense to use some kind of a little diesel engine in this Jeep.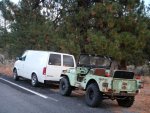 Mercedes OM617 would have been a good option, but it's too big to fit in the short-hood early model CJ5. The 4-cylinder OM616 fits, but what I read about this guy's swap was not particularly encouraging.
My Grandpa had a Jeep with a Perkins 4-cylinder diesel in it, but they didn't make very many of them and it doesn't seem worth the trouble to go find one.
Yesterday I found a practically brand new Isuzu C240 engine that off some kind of military genset, so did a little bit of research and found out that Jeep actually installed that engine in some CJ7's from 80-82 for the international market (here). So I looked up the specs and it makes a bit more torque than the OM616. That spec-sheet made me wish I'd found a 4JG1T though...
So what do you guys think? Is this little Isuzu engine a good candidate? What other engines should I consider?
TDI might be an option? Looks like
OTT makes an adapter
that would allow me to use the SM465 with that engine.
EDIT - here's the list of engines up for consideration so far:
Kubota V2003 MT / V2203 / V2403
Onana L423 / Cummins A-series
Cummins B3.3T
VW 1.9L TDI
Isuzu C240
Isuzu 4JG1T
Perkins 4.108
Last edited: