CA owners
I just had a pleasant encounter with LA County Sheriffs who arrested me. Apparently, I'm not allowed to park my 5 ton with Historical Plates on the street, nor am I allowed to drive it. (from what parking enforcement says) She couldn't show me the code that states the vehicle MUST only be parked on private property.
I refused to open the rig for the tow truck, I told them to tow the truck how it sits and I get arrested for interfering lol.
From my understanding at the DMV, weight restrictions don't apply to historical registered vehicles. What about parking? I couldn't find anything in the vehicle code.


Sorry to hear about your encounter. Now they may be interpreting your 5-ton as a commercial vehicle and if it is parked in a residential area, that could be illegal. Some HOA's have rules like this and some are actually code enforced aka you can get a ticket for it.
Here in San Diego, it is under San Diego Municipal Code 86.0149,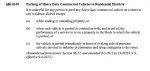 not sure what it would be in Whittier or whatever the jurisdiction is for where your truck was parked.
As for them arresting you, I guess if you did interfere, then they would see that as obstruction. I can understand your frustration, but if they are going to tow it, I would probably do the same thing.
As for not being allowed to drive it, not true, unless they meant after they were going to tow it, meaning that you could not drive it away and they were going to tow it for the violation, I guess.
Good luck man and keep us updated, hope the tow/impound bill is not too bad. More details if you don't mind.