Lots of new... well old Hmmwv sales and ALL the problems (FUN) that goes with them.
Electrical issues can be a bit to chase down. Can't see them little excited electron running around. Your excited too, with a new and NOW DEAD HumV in the driveway.
To help one see them electrons and the parts energizing or not, I present this simple tester.
There's no need to stand around scratching your head and second guessing those pesky electrons and then getting sideways with fuel and pumps and filters and injectors and schrader valves on tires.
Eliminate the easy stuff with a GO-NO GO light. Good to have in your fix kit too.
Easy and simple to build. Need a light, socket for light, 9 + feet of wire (16 ga), couple of roach clips (alligator) and tape, (shrink sleeve optional). Parts right out of the junk box and a little time. See the pictures and fill in the blanks.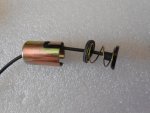 Socket, contact shell and pin from old tail light.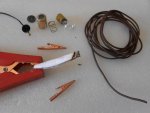 A 28 volt bulb, some wire and roach clips Ah alligator. The big red one is for Kurt. Just kidding.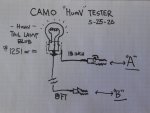 The easy build, solder, splice, shrink sleeve, but no hot glue.
Now that you have it built, double check. Then the first test across the batteries. Bright light...Ya got it right.

Important note: Humv is a strong
truck... So you NEED strong batteries (both of them) and GOOD connections (all of them) to start with. (no PUN here)
Now jump ahead of the class and start answering those questions??
Do I have power to the ??? IP, glow plugs, starter, lights, heater, valve stems? Are the glow plugs in circuit or blown open. Once you get the hang of it (remember simple and easy) at home or on the trail, no more guessing.
Some tests:
Easiest to connect the long one to battery and work the short one on the circuit under test.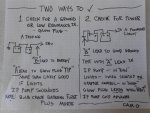 REAL TESTS;
Test light first. Don't want to start out on wrong foot
.
Batteries have voltage and is NOT a test of capacity to run / start... BUT will light a bulb
Mr. Edison. There are some advanced tests in Humv 102 class. Just KNOW you need have Good batteries before proceeding.
These tests shown with truck in the "STOP" position.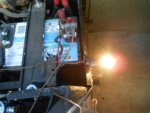 Long lead to battery + Short one to -
Batteries have some juice and bulb is good.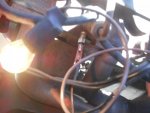 Long lead to battery + Short one to plug tip
Important test GLOW PLUG/s... Light is a GO
Test the other 7. No light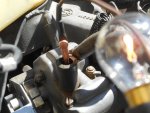 Long lead to battery + Short one to either IP solenoid coils to test.
IP Pump solenoid coils. The lamp may be a bit dimmed.
Test for power to ??? Long lead to battery negative next two test.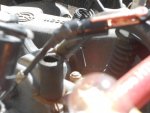 Crapped up picture, long lead to battery negative.
Pull forward lead on IP and clip into it. Turn switch to "RUN" Got light
No light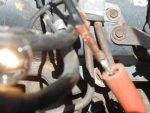 long lead to battery negative.
Tests for glow plug energizing power. This can be a bit tricky due to the contorller wanting to cycle the power depending on being so smart. If light comes on and cycles off and or on and off and on and off good chance your good
. If stays on minutes you are screwed and I don't have a thumb or finger for that.
Other tests go about the same way for lights, horn, heater to see if you getting power
or not
So for those that didn't ditch class... Here's the offer.
I wrote down a number from 1-1000. First Steel Soldier that comes closest is the winner of version 2.15.9 of the CAMO TEST LIGHT. Sent free to your door.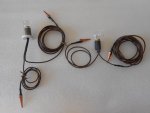 The one on the left
OFFER EXPIRES IN 24 HOURS
Finally something free other that advice, GOOD LUCK, CAMO

Last edited: