Well-known member
Steel Soldiers Supporter
View attachment Fuel Governor.pdf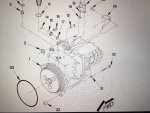 I have an oil leak on the fuel governor, and I can't find any parts break down further than what I have here (TM 9-2320-365-24P) page 88. There is a clamp (part number 29 on this diagram) that holds the offending part in.
My question is; What is under that clamp? If I pull this part off, what will come flying out at me? I'm thinking there is an O Ring leaking under there, but apprehensive about just pulling it out.
Any thoughts from someone "in the know"?
Thanks!
Last edited: