Active member
Steel Soldiers Supporter
I watched MAdams's video about changing the axle hub oil and I saw he had water in his. I got worried so I thought I had better change my hub oil too. I really just wanted to see what was in there. Not water I hope!
Well, the good news is no water. The bad news is that all 6 hubs had some yellow stuff in the gear oil. It looked like copper or sand.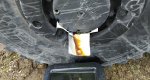 I made an "oil ramp" out of aluminium foil and duct tape. I saw in the video that MAdams uses a funnel with a bungee cord. On my oil ramp, the duct tape stopped sticking after 3 wheels because oil got on the duct tape. So then I just crammed a rag under the ramp to hold it there.
Here is a close up of the yellow stuff. I felt it but it did not feel like sand or copper filings. It was very fine. It was not hard but more like a soft material of some kind. I will change the hub oil again this summer and I hope there is no more yellow stuff in there.