Moderator, wonderful human being & practicing Deuc
Staff member
Administrator
Super Moderator
Steel Soldiers Supporter
Supporting Vendor
Alright, I need some suggestions on wiper upgrades.
I have the good aluminum air powered motors (which I like) and the standard civvy arm and blade upgrade everyone here has been running for years (Anco 41-01 arms and 31-13 blades). It works awesome except the chickenpoop plastic clips which attach the blades to the arms.The plastic clips aren't strong enough to hold the blade upright, the blade leans over and breaks the clip (see images below).
Do any of you have a different upgrade that gives you good civvy arms and blades with the original air motors? Yes, I know about the A3 style electric kit, I can't do this on this truck because the electric kits are $400 and I have a cell/GPS mount on the center windshield post which I have come to love.
Thanks
What I'm running: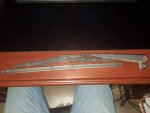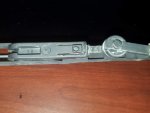 The clip that breaks: