I have looked in the direct support TM of the M809. There isn't much informati0on about the maintenance of the cooling system. Or I missed it.
On the way home, I had this brass pipe fly off. Probably due to age and fluid pressure. I saw a bit of rust sludge in the hose end. So this wants me to clean the system some.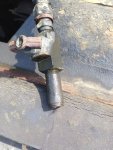 Is there any advise on what to do? Can I use the radiator flush products from the auto store?
I saw a bit about what fluid can ruin the engine. So I'll stick with green.