Member
Steel Soldiers Supporter
After returning from OE18, I gave the beast a through wash down. On a short trip to the local dump, I noticed a small oil leak that was found to be loose flange fittings on the small oil 'pipe' between the head and the fuel governor.
Closer inspection revealed this...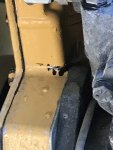 a cracked front gear case! I have read about this happening, sometimes as a result of sustained high speed running. Closer inspection revealed that it has not traveled to the front edge or inside rear edge of the case.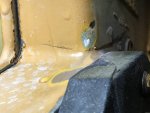 I have a welder coming by to have a look to see if it can be repaired I place. I dread the thought of pulling the front of the engine off, so we will see. Here is another reason to run the higher speed gears and slow the little kitty motor down..
After starting the process of removing the power steering pump and compressor, for better access, I found that the single 8 mm bolt that holds the back of the compressor to the support bracket was finger tight.
My fix for this will be to use a longer bolt and back it up with a nylock nut on the back.
I pray this is a short post and will update with pics as the repair progresses.
Check your own support bracket bolts and post up what you find!
Pointman