Does somebody know if there is a size difference between CTIS and non CTIS lower gears in the hub?
I have the new spindles already but I don't know if I can use my old gears.
This is the size of the new CTIS spindle. Does somebody have a normal spindle laying around and could measure it for me?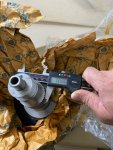 Thanks